Go to the World

Browse other World Atlases
---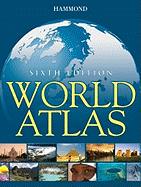 Hammond Atlas of the World
More than half a million copies sold worldwide, Hammond World Atlas Sixth Edition is fully updated for 2010! Completely revised and updated, Hammond's venerable world atlas contains twenty more pages than the previous edition, new photos, and a font change at the same great price. This atlas contains full-color, accurate, easy-to-read world maps with striking physical relief and the latest country information.
The newly updated "Did You Know," "Info Zone," and "Green Alert" callouts contain informative, insightful commentary throughout the atlas. The "Countries of the World" section has been expanded with the most current status of the world's nations, world statistics, updated population figures, and stunning photography. The continent introductory spreads have been revised to include world updates such as the earthquake in Haiti and the updated satellite image section adds a compelling visual perspective to the world's geographical features. This is the most current comprehensive World Atlas available and makes the perfect gift for any home or office library.
The Gazetteer:100,000 entry Master Index
The General Map Description:Exclusive Terra-Scape maps, featuring hypsometric and bathymetric tints which vividly display land and ocean floor terrain
Images and Maps:Thematic maps and graphs on population, standards of living, agriculture and manufacturing, climate and the environment. Quick Reference Guide, population chart, world locator, and time zone maps, as well as satellite imagery
Inset or City Maps: More than 60 inset maps of major metropolitan areas

Hardcover 312 pages - 11" x 14 1/4" - (10/10)
---
ZA1752    Hammond Atlas of the World                            $59.99

Sorry, this product is no longer available or has been replaced.