Go to the World

Browse other World Atlases
---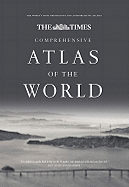 The Times Comprehensive Atlas of the World
Complete with a slipcase and stunning 1922 archive world map, a revised and updated special signature edition of the world's most prestigious and authoritative world atlas
Now in its 13th edition, this atlas is relied on and trusted by governments around the world and international organizations, including the UN, the European Commission, and media companies, to be a benchmark of cartographic excellence. All the maps and detailed thematic information are completely updated with the latest geographical and geopolitical changes--an estimated 20,000 updates with 3,500 changes to place names alone.
New features to this edition include 30 city plans from major cities around the world; flags for every country in the world; the new independent country of Kosovo; and major new place name updates in China, Russia, Kazakhstan, India, Afghanistan, and Iran. The detailed thematic information contains contributions from experts in their relevant geographical field. New topics discussed include migration, the global impact of recession, migration, and polar regions.
This signature edition includes a slipcase and 1922 archive world map.
"Utterly indispensable - I have owned at least one copy of every edition published since the 1940s, and know for certain I have six volumes in my house at this very moment. It is the wedding present I always give, and have done for the past twenty years; and I always inscribe the gift in the same way: May All Your Journeys, to All These Places, be Happy, Healthy and Serene. "
--Simon Winchester
"The Times Comprehensive Atlas of the World has been an essential part of my travelling life for many years. It is the whole world in a single volume."
--Paul Theroux

Hardcover 544 pages - 13" x 19" - 13th edition (10/11)
---
OI0775    The Times Comprehensive Atlas of the World           $200.00