Go to the World

Browse other World Atlases
---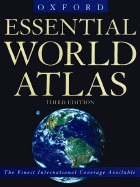 Essential World Atlas
With one hundred pages of superbly crafted maps covering the globe, the Essential World Atlas highlights the best aspects of Oxford's atlas line in a handy and affordable paperback format. This edition offers several new and innovative features including a new fully indexed city-mapping program that takes the viewer deeper into the workings of global geography.
Metro maps of sixty-seven cities--from Amsterdam to Washington, D.C.--are complemented by downtown city-center maps containing detailed information on attractions, transportation, services, and more. The section is fully indexed allowing for quick reference. An eight-page section of satellite images provides an impression of our world from above, offering insight into how cities expand and rivers create life in the desert. The atlas also contains hundreds of up-to-the-minute political and topographical changes--including refined name forms throughout and recompiled road and rail networks on many of the maps, encompassing much of Africa and South Asia.
Meticulously crafted and thoroughly updated, the Essential World Atlas is an indispensable resource.

5th edition (11/08)
---
ZA2501    Essential World Atlas                                 $24.95