Go to the World

Browse other World Atlases
---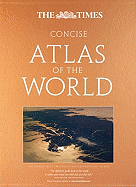 The Times of London Concise Atlas of the World
An amazingly detailed view of the world is provided by 260 pages of mapping, while the illustrated thematic content covers the most important geographical issues of the day. The index has been expanded and now includes over 130,000 entries with alternative and former names highlighted.
The reference mapping, produced in the beautifully clear and distinctive Times style has been completely revised with thousands of changes reflecting recent geopolitical and geographical change around the world.
Updated plans of 32 of the world's great cities are included on the reference maps of the country in which they are located for easy reference.
All thematic and statistical information in the introductory section has been reviewed and updated, with new information reflecting current geographical and global issues. The section includes detailed information on such topics as world population, cities, climate, the environment and telecommunications as well as updated details of the world's states and territories.
The Gazetteer:A comprehensive index of over 130,000 entries with alternative and former names highlighted
The General Map Description: The reference mapping, produced in the beautifully clear and distinctive Times style has been completely revised with thousands of changes reflecting recent geopolitical and geographical change around the world
Images and Maps: 260 pages of mapping, while the illustrated thematic content
Inset or City Maps: Updated plans of 32 of the world's great cities

Hardcover 416 pages - 10" x 14" - (11/09)
---
OI8908    The Times of London Concise Atlas of the World       $145.00