Browse other World Atlases
---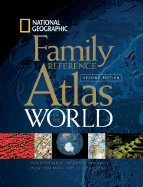 National Geographic Family Reference Atlas of the World
by National Geographic
A modern atlas, especially one designed as a general family reference, demands not just state-of-the-art cartography but a vast array of information organized clearly, efficiently, and above all, usefully--and that's what the Family Reference Atlas provides: more than 1,000 maps, illustrations, and photographs; more than 400 charts and tables; and 30 global thematic spreads displaying key facts and figures on everything from biodiversity and the distribution of natural resources to world health and education, global Internet connectivity, and conflict and terror hotspots.
Upgrades include a completely revamped and much expanded section on Europe, 32 new inset maps detailing the smaller Caribbean islands, and even a new spread on Mars highlighting spectacular images from the latest mission. A comprehensive index makes it easy to pinpoint more than 40,000 locations all over the globe. Need to know the population of Brunei, what the weather's like in San Juan in March, or how to use metric conversions? These answers and thousands more are at your fingertips. Readers learn about the planet itself--landforms, the biosphere, continental drift, environmental change--and the human world's many dimensions, from political, religious, and economic data to population trends and the effect of globalization. The atlas even reaches beyond Earth to explore the solar system, the Milky Way, and the Universe.
The Family Reference Atlas of the World continues a proud tradition of cartographic excellence at an affordable price.

Hardcover 352 pages - 2nd edition (10/06)
---
ZA9306    National Geographic Family Reference Atlas of the     $65.00