Go to the World

Browse other World Atlases
---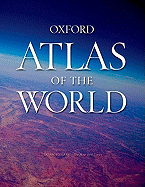 Oxford Atlas of the World
With the pace of change accelerating ever more rapidly each year--in population, climate, national borders, and many other areas--an out-of-date atlas can present a markedly inaccurate view of the world. Oxford's Atlas of the World is the only atlas of its type to be updated annually, offering the most current statistics, maps, images, and global information available today.
Filled with crisp cartography, spectacular satellite photographs, and a wealth of information on changing conditions around the planet, the Atlas of the World maps 69 cities and nearly 100 different regions at carefully selected scales to give a striking view of the Earth's surface. Opening with world statistics and a colorful 48-page Introduction to World Geography--beautifully illustrated with tables and graphs--this acclaimed resource provides details on such topics as climate, the greenhouse effect, global warming, plate tectonics, agriculture, population and migration, and global conflicts. As in years past, the Fourteenth Edition includes a wealth of new geographic information, including a new flag for Lesotho, the addition of Romania and Bulgaria to the European Union, a new region in Senegal and two provinces in Ecuador, plus the addition of national parks such as Lake Shkoder National Park in Montenegro and New Great Limpopo Transfrontier Park on the border of South Africa and Mozambique. Current census statistics accurately reflect the population of world cities, while stunning new satellite images illuminate a wide range of regions and urban areas around the world.
Fully updated to reflect the changing world around us, and includes a promotional world wall map inevery copy.
Gazetteer: 80,000+ place names, with latitude and longitude coordinates.
Images and Maps: 208 pages of geopolitical maps, with illustrated thematic content.
General Map Description: Oxford's distinctive cartographic style, combining layer-colored contours with hill shading gives an exceptionally vivid depiction of landforms.
Inset Maps: 69 city maps.
"A veritable encyclopedia of geographic and demographic information, profusely illustrated with multicolored maps and graphs. "
--The New York Times Book Review

448 pages - 11" x 15" - 18th edition (10/11)
---
OI9198    Oxford Atlas of the World                             $89.95