Go to the World

Browse other Thematic Atlases
---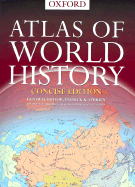 Oxford Atlas of World History Concise Edition
A major new work of reference, Atlas of World history charts the course of human progress arond the globe, from prehistory to the present, in hundreds of full-color maps. This attractive, large-format volume features 135 rwo-page spreads that highlight key moments in world history, each spread blending colorful maps and illustrations with auhtoritative text.
- Gazetteer:20-page gazeteer of historical events, people, and places
- Index:20-page index
- General Map DescriptionMaps by world-renowned cartographers and text by expert academic consultants that graphically capture the flow of civilizations through time.
- Also:22-page time chart


8" x 12" - (11/02)
---
ZA9219    Oxford Atlas of World History Concise Edition         $45.00

Sorry, this product is no longer available or has been replaced.