Go to the World

Browse other Thematic Atlases
---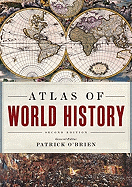 Oxford's Atlas of World History is the result of years of intensive work by a specialist team of scholars, editors, and cartographers. It presents the story of humanity in its physical setting, from the emergence of the earliest hominoids to the present day. Truly international in scope, the atlas incorporates the latest research into Asian, African, and Central and South American history, as well as the traditional core of North American and European events.
The Atlas includes sections on the Ancient World, Medieval World, Early Modern World, Age of Revolutions, and the Twentieth Century and Beyond. Each section opens with an introduction that highlights the main socioeconomic, cultural and religious themes of the period, followed by spreads of maps, text, illustrations and captions that discuss specific regions and eras. Spreads depict everything from hunting in Africa in 10,000 BC to the kingdoms of Southeast Asia in the earliest years of the millennium, the decline of the Byzantine Empire, the growth of the Atlantic economies in the 18th century, and standards of living since 1945.
The Atlas features some 450 vivid full-color maps illustrating the major themes and events of world history, 100 photographs, 60 diagrams and hundreds of thousands of words of explanatory text. Unique for such an atlas, the entire work is thoroughly cross-referenced, allowing the reader to move backwards and forwards in time or across the world from region to region, following themes or lines of inquiry across pages.
The new edition brings the Atlas into the 21st Century and up to the present day. New and updated maps and illustrations cover a wide range of evolving subjects such as population changes, international trading, urbanization, political and economic developments, literacy rates, the concentration of world languages, and many more important and always timely subjects. Coverage of Africa, South Asia, Eastern Europe, and every other part of the world is revisited and updated, making this the most up-to-date atlas of world history available, in addition to being the most complete.
A comprehensive index of more than 8,000 entries includes numerous alternative name forms used over the centuries. The Atlas of World History closes with a bibliography that provides a booklist for suggested further reading. Equally well-suited for a general audience and students of history or international relations, the Atlas of World History continues Oxford's presence as the premier publisher of world atlases.
"Handsome overview of world history... The scope is truly international, rather than reflecting the usual Eurocentric view.... Recommended for all public and academic libraries "
--Library Journal

Hardcover 312 pages - 9" x 12" - 2nd edition (11/10)
---
OI5672    Atlas of World History                                $49.95