Go to the World

Browse other Children's Books
---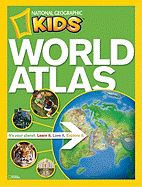 National Geographic World Atlas for Young Explorers
by National Geographic
In the new, reduced trim size edition of National Geographic's award-winning World Atlas for Young Explorers, we've punched up the content with the very latest maps, data, and essays about the world and all that is in it. More than 200 color images transport kids to intriguing places, and 115 pages of full-size National Geographic maps help them locate countries, cities, regions, and more.
Created by the most trusted name in cartography, these colorful maps have been custom designed for middle-grade students. Boundaries, place-names, and data reflect the most current information available, and every map appears in the context of surrounding areas to ensure that a full picture of the world develops. Same-size physical and political maps make for easy comparisons and help youngsters understand how physical features influence patterns of human settlement and economic activity. Locator globes and color-coding make it easy for kids to keep track of where they are and quickly navigate from one region to another.
Stunning images from space draw visual links between real-world scenes and cartography. Plus, an interactive Web feature links kids to the Society's vast archive of maps, articles, photos, videos, music, languages, crafts, quizzes, and more. With a dynamic reference like this, homework has never been so fascinating.

Paperback 191 pages - 10" x 13" - 3rd edition (7/10)
---
ZC8790    National Geographic  World Atlas for Young Explor     $12.95