Go to the World

Browse other World Atlases
---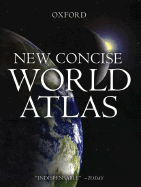 Oxford New Concise World Atlas
The New Concise World Atlas offers a sweeping look at the world in a fresh, clear manner, opening with six pages of compiled statistics on world population, climate and geography, all important points of reference for the global citizen. The highly illustrated "Earth in Space" thematic section that follows provides a wide-angle overview of the planet, placing the human world in the larger context of the universe. Then, in twenty-two compact yet compelling essays, the Earth's human and natural processes are explained using a balanced combination of informative text, instructive charts and graphs, and vibrant photography and cartography.
As part of a suite of annually updated atlases, the second edition offers revised province names and boundaries in Denmark, Ethiopia, Indonesia, and Serbia and Montenegro as well as the opening of four new international airports and several major new railroads.
Five new city maps, several regional spreads of the United States, and inset maps of island groups such as the Azores, the Seychelles and the Comoros also appear here for the first time. With 128 pages of the latest maps at carefully selected scales, every region from the Arctic Ocean to The Volga Basin is rendered in layer-colored contours, revealing detailed political and topographical information about each of the 192 countries recognized by the United Nations.
Page number indicators have been added throughout which, along with refined locator windows, allow for easy identification of adjacent map pages. Historical cross-references have also been added to the already comprehensive 55,000-entry index, so that finding specific locations will be effortless no matter which place name is most familiar. Topping off this value-laden resource, a "Regions in the News" element highlights those geographic areas that have struggled with strife and turmoil over the last twelve months. These thematic maps illustrate local ethnic populations and occupied territories, helping to decode some of the issues plaguing Afghanistan, Israel, Iraq, and Sudan.
With hundreds of dramatic full-color, large-format maps produced by Europe's finest team of cartographers, the The New Concise World Atlas will surely be found on the shelf of anyone concerned with the state of the world.

Hardcover 224 pages - 10" x 13" - 2nd edition (2/07)
---
ZA9839    Oxford New Concise World Atlas                        $35.00