Go to the World

Browse other World Atlases
---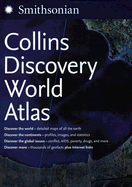 Collins Discovery World Atlas
The Collins Discovery World Atlas is published in association with America's preeminent authority, the Smithsonian Institution.
Collins world atlases present a dynamic view of today's world, bringing it to life through innovative maps, stunning images, and thou-sands of geographical facts and stats. They offer an exciting perspective on how the world is made up, how it looks, and how it works.
The new Discovery atlas allows us to explore the world, providing a fascinating picture of how it looks today and an insight into the key global issues. Detailed, highly accurate maps cover the world in the distinctive Collins style. Thematic pages provide detailed information on, and interpretations of, major geo themes and global issues including AIDS, the drug trade, the world economy, population, telecommunications, and environmental change. Information on all the world's states and territories, and statistics on key socioeconomic indicators, complete the picture. Internet links to the most appropriate Web sites provide the opportunity to discover more.
This atlas is ideal for home and office reference, travel planning, school and college study, and for gaining new insight into how the world looks today.

Hardcover 240 pages - 9" x 12" - (10/05)
---
ZA8832    Collins Discovery World Atlas                         $30.00