Go to the World

Browse other World Atlases
---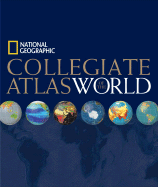 National Geographic Collegiate Atlas of the World
by National Geographic
The last decade has seen an explosion of innovative and sophisticated digital mapping technologies--and National Geographic has been at the forefront of developing these powerful new tools to create the finest, most functional and informative atlases available anywhere.
This compact, easy-to-use format is the first product built on our newly developed, cutting-edge cartographic database. It offers the convenience of smaller scale without sacrificing clarity or detail; instead, identically-scaled maps on a given continent enable readers to compare physical, political, and regional information simply and accurately. After a fascinating explanation of the latest technology, the atlas examines our world as a whole, presenting 25 global themes, from tectonics, the biosphere, and energy sources to population, health, literacy, and more, along with such timely topics as environmental stress and flash points for conflict and terror. Next it explores each continent with special spreads assessing the global economic impact of each. The oceans and the polar regions follow providing complete, consistent coverage. Finally, comprehensive appendices present world political information, statistics, and geographic comparisons organized for quick and easy reference.
In addition, access to a companion web site will provide continuing and complimentary information making this atlas truly state-of-the-art and up-to-the-minute.

Hardcover 384 pages - 9" x 10" - 2nd edition (8/11)
---
ZA6629    National Geographic Collegiate Atlas of the World     $40.00