Go to the World

Browse other World Atlases
---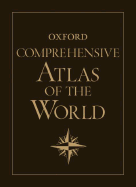 Comprehensive Atlas of the World with leather binding
Offering unsurpassed geographical coverage in a striking and glamorous package, Oxford's Comprehensive Atlas of the World is the new leader in top-of-range world atlases.
The Comprehensive boasts the same top-notch global coverage, quality cartography, and outstanding geographical data that Oxford has published for the past 15 years, but now offers this information in a special luxury package. Its reinforced leather binding, ribbon markers, and gilded page edges exemplify the value of this premiere reference work.
The core of the Comprehensive Atlas is the extensive world mapping section of 290 pages which includes large-scale maps of each US state; Canada; Mexico; Britain and Ireland; Europe; Australia and New Zealand. This atlas also includes the world's newest country, Kosovo, which declared its independence from the Republic of Serbia in February 2008. These spectacular maps are accompanied by a set of six ocean floor maps and a 56 page section on World Geography which features colorful spreads on astronomy, biodiversity and the natural world, climate change and global warming, together with economic topics such as globalization. Also included are stunning full-page photos of our planet that show, in vivid color, evidence of the effects of climate change.

Hardcover 584 pages - 12" x 15 1/2" - (10/08)
---
OI4797    Comprehensive Atlas of the World with leather bin    $250.00