Browse other Thematic Atlases
---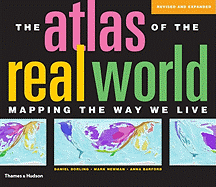 Advances in technology have made widespread and detailed data gathering easier, resulting in a deluge of statistics on subjects as diverse as literacy rates, military spending, overweight children, television viewing figures, and endangered species. But how do we represent and compare data from one part of the world to another in a useful way?
Here, sophisticated software combined with comprehensive analysis of every aspect of life represents the world as it really is. Digitally modified maps depict the areas and countries of the world not by their physical size but by their demographic importance on a vast range of topics.
The rainforests of South America, with thirty percent of the world's fresh water, make the continent balloon in an analysis of water resources, whereas Kuwait, dependent on desalinated seawater, disappears from the map. Fuel use, alcohol consumption, population, malaria: here are hundreds of key indicators to the way we live.
This innovative and exceptionally accessible reference work will be an indispensable tool for journalists, economists, marketers, politicians, financiers, environmentalists, and scholars. Its cartograms are augmented by graphs, tables, and full commentaries.

Paperback 416 pages - 10 3/4" x 9 3/4" - (10/10)
---
OI4259    Atlas of the Real World                               $34.95