Go to Boston

Browse other Sports & Recreation
---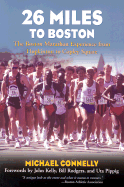 Twenty-six Miles to Boston: Boston Marathon Experience from Hopkinton to Copley Square
by Michael Connelly
26 Miles to Boston is a colorful and moving portrait of what it feels like to run the Boston Marathon - and it puts readers squarely into the running shoes of anyone who has attempted the world's most prestigious long-distance race.
From the suburban town of Hopkinton to the center of metropolitan Boston, here are the mile-by-mile sights and sounds that confront the runners, and firsthand accounts - including the author's - of the pain and exhaustion they endure as they battle both the elements and the course's demanding terrain.
Here also is a rich and inspiring history of the marathon and of the men and women of varying skills and abilities whose own struggles, small victories, and personal triumphs have colored this magnificent event.

304 pages - 6" x 9" - (4/03)
---
ZN8285    Twenty-six Miles to Boston: Boston Marathon Exper     $14.95