Go to the World

Browse other Art & Architecture M-Z
---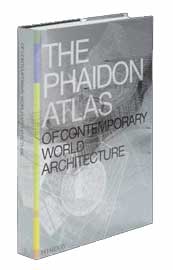 The Phaidon Atlas of Contemporary World Architecture
by Phaidon
The Phaidon Atlas of Contemporary World Architecture presents a global survey of the most outstanding works of contemporary architecture from around the world completed in the last five years. Organized geographically and illustrated with global, regional and sub-regional maps locating each building, the book illustrates more than 1,000 completed buildings, and includes some of the most influential projects as well as many lesser-known buildings from around the world. Sections on World Data, Building Data and Architect's Biographies build up a detailed picture of the influences on contemporary architecture today. Every building type, from the largest publicly-funded art museums and airports to private houses, is covered, and each project is illustrated with colour photographs, line drawings and a descriptive text.
The Phaidon Atlas of Contemporary World Architecture presents a comprehensive survey of international architecture at the turn of the twenty-first century. Eminent architectural critics, curators, journalists and practitioners from all parts of the globe were asked to nominate what they considered to be the most outstanding works of contemporary architecture in their regions and beyond. The resulting c.1,050 buildings both confirm the far-reaching influence of well-known and respected international practitioners such as Jean Nouvel, Tadao Ando, Renzo Piano, Sir Norman Foster, Rem Koolhaas and Herzog & De Meuron, as well as introducing a host of lesser-known architects whose work provides an illuminating point of comparison with their famous counterparts.
The book provides a unique opportunity to examine contemporary architecture as a global phenomenon with all the cross-cultural influences and commonality this suggests, as well as illustrating the diversity that is generated by climate (from the Arctic circle to the African deserts), culture (from the technologically advanced secularism of western Europe to traditional rural communities) and economics (from the wealthy post-industrial mega-economies to some of the most economically challenged countries of the developing world).
The Atlas is divided into six geographical regions with detailed maps in each section providing geographical orientation and an understanding of where contemporary architecture is being commissioned, designed and built. The Phaidon Atlas of Contemporary World Architecture will be essential reading for all those interested in gaining a true understanding of where the best contemporary architecture is located in the world.

Hardcover 824 pages - 16" x 20 3/4" - (5/04)
---
OI3121    The Phaidon Atlas of Contemporary World Architect    $160.00